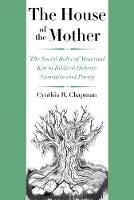 The House of the Mother The Social Roles of Maternal Kin in Biblical Hebrew Narrative and Poetry Cynthia R. Chapman, John Collins
Series:

Format:

Hardback

Publication date:

03 Jan 2017

ISBN:

9780300197945

Imprint:

Dimensions:

360 pages: 235 x 156 x 27mm

Illustrations:

12 b-w illus.
Categories:
A novel approach to Israelite kinship, arguing that maternal kinship bonds played key social, economic, and political roles for a son who aspired to inherit his father's household

Upending traditional scholarship on patrilineal genealogy, Cynthia Chapman draws on twenty years of research to uncover an underappreciated yet socially significant kinship unit in the Bible: "the house of the mother." In households where a man had two or more wives, siblings born to the same mother worked to promote and protect one another's interests. Revealing the hierarchies of the maternal houses and political divisions within the national house of Israel, this book provides us with a nuanced understanding of domestic and political life in ancient Israel.
Cynthia R. Chapman is the Adelia A.G. Johnston and Harry Thomas Frank Professor of Biblical Studies at Oberlin College. She is the author of The Gendered Language of Warfare in the Israelite-Assyrian Encounter.
Co-winner of the 2017 Biblical Archaeology Society Publication Award in the Best Book Relating to the Hebrew Bible category.
"In this extraordinarily important study, Cynthia Chapman sheds light on numerous enigmatic biblical passages and has made a major contribution to our understanding of Israel's social world. Chapman is a pioneer in the study of women's kinship."—Robert R. Wilson, Yale Divinity School  

"With methodological sophistication, Cynthia Chapman explores evidence of maternal kin from the Hebrew Bible and ancient Levant. Her work is both wisely cautious and creatively daring, an exciting new contribution to both biblical studies and the wider field of cultural studies."—Susan Niditch, Amherst College
"A methodological tour de force reassessing ancient Israelite social history, informed by keen exegeses and new insights, expressed in crystalline prose, a major new contribution to understanding how women's lives shaped biblical narratives—Chapman's book qualifies as a landmark in the field."—David S. Vanderhooft, Boston College