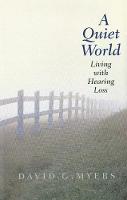 A Quiet World Living with Hearing Loss David G. Myers
Format:

Paperback

Publication date:

01 Nov 2000

ISBN:

9780300194654

Imprint:

Dimensions:

224 pages: 210 x 140mm

Illustrations:

6 b-w illus.

Sales territories:

World
Categories:
Some 28 million people in America and 350 million people worldwide live with hearing loss. How do these people and their families cope? What are their experiences of pain, humor, and hope? What support do medicine and technology now offer them, and what is on the horizon? In this engaging and practical book, David Myers, who has himself suffered gradual hearing loss, explores the problems faced by the hard of hearing at home and at work and provides information on the new technology and groundbreaking surgical procedures that are available.

Drawing on both his own experiences and his expertise as a social psychologist, Myers recounts how he has coped with hearing loss and how he has incorporated technological aids into his life. The family and friends of the hard of hearing also face adjustments. Myers addresses their situation and provides advice for them on how best to alert loved ones to a hearing problem, persuade them to seek assistance, and encourage them to adjust to and use hearing aids.

David G. Myers is John Dirk Werkman Professor of Psychology at Hope College. His psychology textbooks are studied at nearly a thousand colleges and universities. He is the author of The American Paradox: Spiritual Hunger in an Age of Plenty, published by Yale University Press.