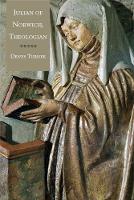 Julian of Norwich, Theologian Denys Turner
Format:

Paperback

Publication date:

28 Jun 2013

ISBN:

9780300192551

Imprint:

Dimensions:

288 pages: 210 x 140mm

Sales territories:

world
Categories:
For centuries readers have comfortably accepted Julian of Norwich as simply a mystic. In this astute book, Denys Turner offers a new interpretation of Julian and the significance of her work. Turner argues that this fourteenth-century thinker's sophisticated approach to theological questions places her legitimately within the pantheon of other great medieval theologians, including Thomas Aquinas, Bernard of Clairvaux, and Bonaventure.
Julian wrote but one work in two versions, a Short Text recording the series of visions of Jesus Christ she experienced while suffering a near-fatal illness, and a much expanded Long Text exploring the theological meaning of the "showings" some twenty years later. Turner addresses the apparent conflict between the two sources of Julian's theology: on the one hand, her personal revelation of God's omnipotent love, and on the other, the Church's teachings on and her own witnessing of evil in the world that deserves punishment, even eternal punishment. Offering a fresh and elegant account of Julian's response to this conflict—one that reveals its nuances, systematic character, and originality—this book marks a new stage in the century-long rediscovery of one of the English language's greatest theological thinkers.
Denys Turner is Horace Tracy Pitkin Professor of Historical Theology, Yale University. He lives in New Haven, CT, and in Birmingham, UK.
"This is the best book I have seen on Julian, and one of the most energizing ventures in theology in the last several years."—John Wilson, Books and Culture
"The author writes with erudition, theological precision and flashes of humor. This is an enlightening book that makes an important and impressive addition to Julian scholarship."—Joan M. Nuth, America
"The best theological exposition of Julian to appear so far....It shows why her thinking is still of value and how one might critically engage with it."—Brian Davies, Commonweal