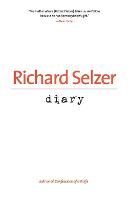 Format:

Paperback

Publication date:

26 Mar 2013

ISBN:

9780300191974

Imprint:

Dimensions:

256 pages: 235 x 156mm

Sales territories:

World
Categories:
Selections from the moving, beautifully crafted diary of a celebrated storyteller and surgeon

Susan Cheever observed in a New York TimesBook Review appraisal of his memoir Down from Troy that Richard Selzer "cares more about truth than consequences . . . [and] immerses us in the facts we all know but hate to admit." Selzer's Diary picks up roughly where the memoir leaves off, as his writing life flourishes and surgical career ends. Stripped of the doctor-writer's "privilege of [walking] about all day in the middle of a short story," Selzer shifts his focus to his interior life. In Diary, the author's successes and regrets, as well as the humor and sadness that surround him, are revealed with the same empathy and vividness that made him one of the great doctor-writers of modern literature.
Diary brings together stories and observations dashed off on park benches and in library carrels over the past decade. Following the success of such books as Confessions of a Knife and TheDoctor Stories, Selzer's diary entries recount life lived in the shadow of both achievement and disappointment. He introduces a varied cast of characters, from the distinguished fellowship of the "Boys Friendly" to his "fellow loonies," and evokes the streets, buildings, and parks of Yale and New Haven with vibrancy and affection. And throughout, Selzer faces the looming specter of old age. The distinctive voice that paved the way for other notable doctor-writers like Jerome Groopman and Abraham Verghese is revealed here to be no less compelling with the spotlight turned on himself and the drama of everyday living.
Richard Selzer is a former surgeon and Yale School of Medicine professor. He is the author of several collections of stories and essays, including Letters to a Young Doctor, and Raising the Dead. He lives in New Haven, CT.
"Worth the price of admission for Selzer's longtime fans, whose numbers will swell as newcomers become intrigued and delighted by his wit, perception, and skillful use of language."—William Beatty on The Exact Location of the Soul in Booklist
"No one writes about the practice of medicine with Selzer's unique combination of mystery and wonder."—Los Angeles Times
"Selzer has a grace all his own, both as a prose stylist and as a surgeon...patients everywhere should applaud the medical school administrators who make his books required reading: They teach young doctors humility, kindness, and compassion."—Susan Balée, The Philadelphia Inquirer
"There is little he cannot achieve with the written word"--Robert Nathan, New York Times Book Review
"[Richard Selzer writes of] the care of the terminal and the treatment of the frail with such vividness and a disarming awe that it is hard to imagine he has not lived through most of what he recounts."--Fitzhugh Mullan on The Doctor Stories in Washington Post Book World
"With unflinching eyes and a poet's skill . . . Selzer enables us to see our bodies in previously unconsidered ways ."—James Schiff, Book Summit
"A passionate, unsentimental celebration of life's messiness, whether on an operating table or at a dining table."—Kirkus Review on The Exact Location of the Soul
"A terrible beauty of a book, full of love and pain and a palpable rich sadness that will stay with a reader forever"--Library Journal on Down from Troy
"Richard Selzer does for medicine what Jacques Cousteau does for the sea. He transports the reader to a world that most of us never see, a world that is vivid and powerful, often overwhelming, occasionally fantastic...His marvelous insight and potent imagery make his tales of surgery and medicine both works of art and splendid tools of instruction."—Fitzhugh Mullan on Letters to a Young Doctor in the New York Times Book Review
"No matter where [Richard Selzer] takes us, we follow, because he has the storyteller's gift."—New Yorker
"[Selzer is] known for his rich language and Diary doesn't disappoint: It's infused with spicy metaphors, toothsome images and the pungent vocabulary of medicine. . . . At once his descriptions are offensive and wonderful."—Anna Reisman, New Haven Advocate