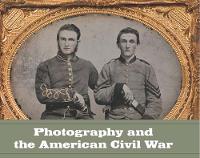 Photography and the American Civil War Jeff L. Rosenheim
Format:

Hardback

Publication date:

07 May 2013

ISBN:

9780300191806

Imprint:

Dimensions:

288 pages: 229 x 279mm

Illustrations:

297 b-w + color illus.

Sales territories:

World
Categories:
This eye-opening study of Civil War photography traces the introduction of the camera into the battlefield and shows its influence on history and our responses to war

Six hundred thousand lives were lost between 1861 and 1865, making the conflict between North and South the nation's deadliest war. If the "War Between the States" was the test of the young republic's commitment to its founding precepts, it was also a watershed in photographic history, as the camera recorded the epic, heartbreaking narrative from beginning to end—providing those on the home front, for the first time, with immediate visual access to the horrors of the battlefield.
Photography and the American Civil War features both familiar and rarely seen images that include haunting battlefield landscapes strewn with bodies, studio portraits of armed Confederate and Union soldiers (sometimes in the same family) preparing to meet their destiny, rare multi-panel panoramas of Gettysburg and Richmond, languorous camp scenes showing exhausted troops in repose, diagnostic medical studies of wounded soldiers who survived the war's last bloody battles, and portraits of both Abraham Lincoln and his assassin, John Wilkes Booth.
Published on the occasion of the 150th anniversary of the battle of Gettysburg (1863), this beautifully produced book features Civil War photographs by George Barnard, Mathew Brady, Alexander Gardner, Timothy O'Sullivan, and many others.
Jeff Rosenheim is curator in charge in the department of photographs at The Metropolitan Museum of Art, New York.
"The American Civil War, for the purposes of this riveting study, begins just before the 1860 presidential election, which swept Abraham Lincoln to power, and ends with the aftermath of his assassination in 1865.
Warfare itself . . . makes up only a part of this book. There is striking and unexpected imagery . . . The final pictures are as momentous as any. Gardner's sequence showing the execution of the Lincoln assassins . . . still have in our desensitised times the power to shock. For a book of this scope and depth, academic, meticulously researched and a corrective to much that has gone before, the text reads throughout like a thriller."—Robin Muir,
World of Interiors