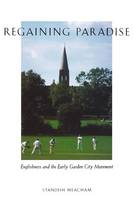 Regaining Paradise Englishness and the Early Garden City Movement Standish Meacham
Format:

Paperback

Publication date:

01 Jun 1999

ISBN:

9780300191493

Imprint:

Dimensions:

272 pages: 229 x 152mm

Illustrations:

60 b-w illus.
This engaging book considers the British social reform movement at the beginning of the twentieth century through the lens of the garden city movement, a plan to build new communities on open land that would provide a healthy, aesthetically pleasing environment free from overcrowding and pollution. Standish Meacham argues that although the garden city movement initially embodied radical schemes for the reformation of society, it became in the hands of its upper-middle-class proponents a device for maintaining the established order in the face of threatening social change. In the complex clash between conservative and progressive impulses among garden city proponents, conservatism ultimately prevailed.

Meacham shows that even socialist architects closely associated with the movement and its most famous prewar projects at Letchworth and Hampstead relied for inspiration on the villages of England's pre-industrial squirearchy. The result was the reaffirmation of a particular concept of Englishness that influenced both social policy and urban design.


Standish Meacham is Sheffield Centennial Professor of History Emeritus at the University of Texas at Austin.


?[An] authoritative history . . . in luminous prose, of the early garden city movement.??Victorian Studies
?Excellent. . . . Highly recommended for all libraries.??Choice
?This scholarly book will be of real interest to all who want an insight into the origins of the suburban lifestyle. The central characters in this book, although long dead, continue to have a huge impact on the lives of millions of people through their influence on town planning, architecture and landscape architecture.??Peter Thoday, The Garden
?An entertaining and authoritative account of the English garden city down to 1914.??Andrew Saint, author of Towards a Social Architecture
?[An] engaging book on the beginnings of the garden city movement.??Stewart A. Weaver, Albion