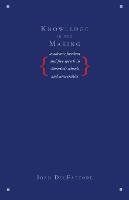 Knowledge in the Making Academic Freedom and Free Speech in America's Schools and Universities Joan DelFattore
Format:

Paperback

Publication date:

07 Aug 2012

ISBN:

9780300188141

Imprint:

Dimensions:

320 pages:

Sales territories:

World
Categories:
A compelling must-read for parents, administrators, faculty, and anyone with an interest in what happens when academics and politics intersect

How free are students and teachers to express unpopular ideas in public schools and universities? Not free enough, Joan DelFattore suggests. Wading without hesitation into some of the most contentious issues of our times, she investigates battles over a wide range of topics that have fractured school and university communities—homosexuality-themed children's books, research on race-based intelligence, the teaching of evolution, the regulation of hate speech, and more—and with her usual evenhanded approach offers insights supported by theory and by practical expertise.
Two key questions arise: What ideas should schools and universities teach? And what rights do teachers and students have to disagree with those ideas? The answers are not the same for K–12 schools as they are for public universities. But far from drawing a bright line between them, DelFattore suggests that we must consider public education as a whole to determine how—and how successfully—it deals with conflicting views.
When expert opinion clashes with popular belief, which should prevail? How much independence should K–12 teachers have? How do we foster the cutting-edge research that makes America a world leader in higher education? What are the free-speech rights of students? This uniquely accessible and balanced discussion deserves the full attention of everyone concerned with academic goals and agendas in our schools.
Joan DelFattore is an award-winning author and professor of English and legal studies, University of Delaware.
"Joan DelFattore provides both an appeal to urgency in repelling these attacks and a clear description of the legal obstacles and barriers that need to be overcome. The book is well worth reading."—John M. Elmore, Academe
"Peppered by a sense of humor that will resonate with many in academia . . . The civility with which [DelFattore] approaches controversial subjects helps demonstrate for her readers how respectful discourse and debate can generate a healthier American educational system . . . Excellent."—Suzanne Corriell, Law Library Journal
"An important analysis of who controls the professional speech of university faculty and schoolteachers, of college and public school students—and who should control it—and why it matters."—Matthew Finkin, co-author of For the Common Good: Principles of American Academic Freedom