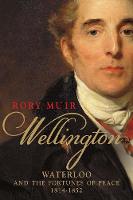 Wellington Waterloo and the Fortunes of Peace 1814–1852 Rory Muir
Format:

Hardback

Publication date:

11 Jun 2015

ISBN:

9780300187861

Imprint:

Dimensions:

728 pages:

Illustrations:

32 pp. color illus.

Sales territories:

World
Categories:
From the leading Wellington historian, a fascinating reassessment of the Duke's most famous victory and his role in the turbulent politics after Waterloo

Wellington's momentous victory over Napoleon was the culminating point of a brilliant military career. Yet Wellington's achievements were far from over: he commanded the allied army of occupation in France to the end of 1818, returned home to a seat in Lord Liverpool's cabinet, and became prime minister in 1828. He later served as a senior minister in Peel's government and remained Commander-in-Chief of the Army for a decade until his death in 1852.
 
In this richly detailed work, the second and concluding volume of Rory Muir's definitive biography, the author offers a substantial reassessment of Wellington's significance as a politician and a nuanced view of the private man behind the legend of the selfless hero. Muir presents new insights into Wellington's determination to keep peace at home and abroad, achieved by maintaining good relations with the Continental powers and resisting radical agitation while granting political equality to the Catholics in Ireland rather than risk civil war. And countering one-dimensional pictures of Wellington as a national hero, Muir paints a portrait of a well-rounded man whose austere demeanor on the public stage belied his entertaining, gossipy, generous, and unpretentious private self.
 
Rory Muir is visiting research fellow, School of History and Politics, University of Adelaide. The author of several previous books related to Wellington's career, he lives in Australia.
"[An] authoritative and enjoyable conclusion to a two-part biography. Muir's treatment of Wellington the general was methodical, but he handles Wellington the politician with flair and , importantly, penetrates his mind . . . This excellent biography should be compulsory reading for all Conservative ministers, MPs and prospective candidates since it will serve to remind them of the value of sober, dispassionate judgement and the duties and disciplines of public service."—Lawrence James, Times (London)
"The Wellington biography for our time."—Gary Sheffield, History Today
"This splendid biography makes substantial claims for Wellington . . . but it backs up these claims vigorously and convincingly. It is revisionist biography in the best sense."—Andrew Roberts, Mail on Sunday
"[A] superb biography, which is as provocative as it is thorough, and as attractive as it is scrupulous."—Ferdinand Mount, Times Literary Supplement
'The fruit of more than thirty years labour, Rory Muir's two-volume life of Wellington is a monumental achievement that will not be bettered for a generation.'—Saul David, Literary Review.
"In sum this is nothing short of being a marvelous work of biography on the finest military commander of the Napoleonic Wars. It puts in the shade every previous biography of the duke and justly earns the accolade 'definitive'— and will be for the foreseeable future."—Donald E. Grave, Napoleon Series
"Wellington has hardly been short of biographers, but what makes the latest of them, Rory Muir, so outstanding is his sheer professionalism . . . this is an impressively weighty and detailed volume, and yet also a surprisingly readable one. Its publication completes an outstanding achievement."—Andrew Uffindell, Journal of Army Historical Research
"After forty years, we finally have a definitive new life of the Duke of Wellington. Rory Muir conveys the military, political, social and personal sides of Wellington's career with equal brilliance. This will be the leading work on the subject for decades."—Andrew Roberts, author of Napoleon and Wellington: The Long Duel
"Rory Muir is one of the foremost historians of the Napoleonic period. This is the richest biography of the Iron Duke in many years, brimming with originality and not shy of controversy."—John Bew, author of Castlereagh: Enlightenment, War and Tyranny
"Vivid, engaging and hugely readable. From it emerges a nuanced and well-rounded sense of Wellington the man, military hero, politician and public servant. Readers will gain much insight, knowledge and enjoyment from reading Muir's authoritative portrait of one of the great figures of nineteenth-century Britain."—Angus Hawkins, author of The Forgotten Prime Minister, the 14th Earl of Derby

"In 1818 the Prime Minister, Lord Liverpool, offered Wellington a place in his government. The Duke replied with a word of caution which just about summarizes his whole approach to politics. 'The experience which I have acquired during my long service abroad has convinced me that a factious opposition to the government is highly injurious to the interests of the country; and thinking as I do now I could not become a party to such an opposition, and I wish that this may be clearly understood by those persons with whom I am now about to engage as colleagues in government.'

The Duke has often been summarized as a brilliant general who was hopeless in politics. Anyone reading Rory Muir's book will have to think this through again. Muir gives a painstaking and brilliant account of the actual Battle of Waterloo – but in his analysis of the difficult years which followed, he argues that the Duke never forgot his guiding principle, that the King's government has to be carried on."—Douglas Hurd, former UK Foreign Secretary and author of Robert Peel