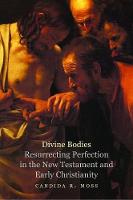 Divine Bodies Resurrecting Perfection in the New Testament and Early Christianity Candida R. Moss
Format:

Hardback

Publication date:

09 Jul 2019

ISBN:

9780300179767

Imprint:

Dimensions:

208 pages: 210 x 140 x 19mm

Sales territories:

World.
Categories:
A path‑breaking scholar's insightful reexamination of the resurrection of the body and the construction of the self
 
When people talk about the resurrection they often assume that the bodies in the afterlife will be perfect. But which version of our bodies gets resurrected—young or old, healthy or sick, real-to-life or idealized? What bodily qualities must be recast in heaven for a body to qualify as both ours and heavenly?
 
The resurrection is one of the foundational statements of Christian theology, but when it comes to the New Testament only a handful of passages helps us answer the question "What will those bodies be like?" More problematically, the selection and interpretation of these texts are grounded in assumptions about the kinds of earthly bodies that are most desirable. Drawing upon previously unexplored evidence in ancient medicine, philosophy, and culture, this illuminating book both revisits central texts—such as the resurrection of Jesus—and mines virtually ignored passages in the Gospels to show how the resurrection of the body addresses larger questions about identity and the self.
Candida R. Moss is the Edward Cadbury Professor of Theology at the University of Birmingham, UK. She is an award-winning author, whose books include Ancient Christian Martyrdom, Reconceiving Infertility, and Bible Nation.
"[An] excellent new book"—The Catholic Herald

"In this informed, witty, and provocative study… Professor Moss presents a timely challenge to modern sense and sensibilities."—John Saxbee, Church Times

"There is a tremendous wealth of learning and reflection in the short 200 pages of this book…Definitely one to read."—Matthew V. Novenson, Journal for the Study of the New Testament

"Why does Christianity see bodily resurrection as salvation? How do ideas about embodied eternity encode time-bound cultural values concerning health, wealth, beauty, sex, and self? Candida Moss's lithe essay investigates all these questions with lively erudition, with humor and with insight. Divine Bodies is divine reading."—Paula Fredriksen, author of When Christians Were Jews

"With enormous learning and gentle sensitivity Candida Moss explores the intricate pathways of the Christian imagination. In the process she skillfully and insightfully reveals the complex ironies of a hoped for future life and the ways it often mirrors an unexamined present."—Harold W. Attridge, Yale Divinity School

"Are our bodies ourselves? Candida Moss shows how culturally constructed notions of human perfection and beauty have shaped New Testament passages about the resurrected body—and modern biblical scholarship as well. A thought-provoking work of intellectual and cultural history."—David Brakke, The Ohio State University

"This fresh, careful study will change our classical images of bodily resurrection. Shining new light on both well-known texts and more neglected sources, Candida Moss shows how earthly disabilities are an integral part of resurrected, glorified bodies."—Christoph Markschies, Humboldt-University Berlin

"In this thought-provoking book, Candida Moss invites readers to rethink our views about the resurrection and critically question our (often implicit) assumptions of the perfect and impaired bodies."—Ismo Dunderberg, University of Helsinki