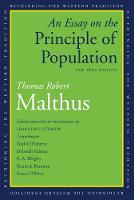 Series:

Format:

Paperback

Publication date:

10 Apr 2018

ISBN:

9780300177411

Imprint:

Dimensions:

624 pages: 210 x 140 x 32mm

Illustrations:

2 b-w illus.

Sales territories:

World
Categories:
Malthus's Essay on the Principle of Population remains one of the most influential works of political economy ever written. Most widely circulated in its initial 1798 version, this is the first publication of his benchmark 1803 edition since 1989. Introduced by editor Shannon C. Stimson, this edition includes essays on the historical and political theoretical underpinnings of Malthus's work by Niall O'Flaherty, Malthus's influence on concepts of nature by Deborah Valenze, implications of his population model for political economy by Sir Anthony Wrigley, an assessment of Malthus's theory in light of modern economic ideas by Kenneth Binmore, and a discussion of the Essay's literary and cultural influence by Karen O'Brien. The result is an enlarged view of the political, social, and cultural impact of this profoundly influential work.
Thomas Robert Malthus (1766–1834) was an English cleric and scholar. Shannon C. Stimson holds the Leavey Chair in the Foundations of American Freedom at Georgetown University. Her books include After Adam Smith: A Century of Transformation in Politics and Political Economy, Ricardian Politics, both with Murray Milgate, and The American Revolution in the Law.
"This new edition fills a real gap and makes available a text of pivotal significance in nineteenth and twentieth century intellectual history. The ancillary essays make this a very useful edition for students and scholars alike."—Robert Mayhew, author of Malthus: The Life and Legacies of an Untimely Prophet