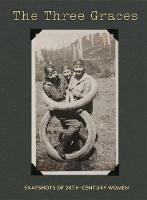 The Three Graces Snapshots of Twentieth-Century Women Michal Raz-Russo
Format:

Hardback

Publication date:

29 Nov 2011

ISBN:

9780300177343

Imprint:

Dimensions:

160 pages: 210 x 152mm

Illustrations:

142 color illus.
Categories:
Snapshots preserve more than individual likeness and memory. Photographs of celebrations, vacations, and gatherings of family and friends are accumulated with the aim of constructing and preserving a personal identity for future generations. What happens, however, when a snapshot is subsequently discarded or displaced and becomes merely an 'anonymous' image? This and many other questions are discussed in this fascinating selection of anonymous images depicting three women.

Presumably all taken by nonprofessionals, these snapshots were acquired over time by a private collector interested in their eclectic yet familiar details and who named the grouping after the iconic Greco-Roman motif. In traditional western iconography, 'the Three Graces' personify beauty, charm, and grace in both nature and humanity. In the 150 snapshots assembled here, the remarkable consistency of confidence and poise projected by the trios of women - in varied settings, in various states of dress/undress, and over a period of more than fifty years - reveals the formal and behavioural conventions that evolved as photography's popularity skyrocketed among amateurs.

To this end, the iconography of The Three Graces provides a framework for understanding the generational differences and cultural influences that shaped women's self-presentation in front of the camera in the first half of the 20th century.
Michal Raz-Russo is curatorial assistant for exhibitions in the Department of Photography at the Art Institute of Chicago.