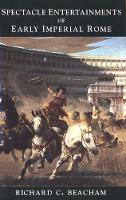 Spectacle Entertainments of Early Imperial Rome Richard Beacham
Format:

Paperback

Publication date:

15 Apr 2011

ISBN:

9780300176995

Imprint:

Dimensions:

320 pages: 229 x 152mm

Illustrations:

28 b-w illus.
The presentations in the theater, gladiatorial combats, chariot races in the circus, animal hunts, triumphal processions, and other public entertainments of early imperial Rome served as tangible expressions of Roman ideology and power. This engagingly written book describes these lavish spectacles, traces their evolution under Rome's political masters from Caesar to Nero, and discusses their social and political significance.

Drawing on primary accounts of ancient historians as well as on archaeological evidence, Richard C. Beacham examines the stagecraft of Roman statecraft, providing illuminating accounts of such episodes as the intensely theatrical rivalry of Caesar and Pompey, Augustus's performance in what the Princeps himself called the "mime of life," and the demented antics of Caligula. He shows how Roman politicians and emperors created awesome spectacles of mass appeal in a potent exercise of demagoguery. He argues that the Roman people in turn jealously guarded their right to be entertained, regarding the theater, circus, and arena as political venues in which to demonstrate their power and vent their opinions.

"The theatricality of contemporary politics pales by comparison with the extravagant spectacles organized by the Julie-Claudian rulers, who were masterful manipulators of public taste and opinion. This immensely entertaining and well-documented text will be required reading for anyone interested in the origins and development of stagecraft and pageantry, but it may also serve as an instructive history of the use and abuse of mass entertainment for political power."?Marion True, Curator of Antiquities, Getty Museum
?This immensely entertaining and well-documented text will be required reading for anyone interested in the origins and development of stagecraft and pageantry.??Marion True, J. Paul Getty Museum
"Erudite, exemplary, and well written, this study by one of the few theaters specializing in ancient Rome will be welcomed by serious students and specialists in theater and Roman history. . . . Exhaustively researched and documented. . . . Strongly recommended for all academic libraries."?Choice
?A convenient single source for those interested in the topic or preparing a lecture or two on it.??John D. Muccigrosso, Classical Outlook
?This book, useful and informatively, adds to the contemporary trend in scholarship to study and analyse Roman culture in its widest sense. . . . This is a good book and the publisher has done an excellent job. It should be read by all interested teachers of the Late Republic and Early Empire and is accessible to many of their students. It deals with an area which can all too easily be ignored, central though it is to our understanding of the period.??John Murrell, JACT Review
?[A] highly informative book. . . . The book, which gathers and cites the evidence in detail, will appeal to general readers and scholars alike.??Robert Sonkowsky, Key Reporter
?A comprehensive, narrative account of how games, displays, and entertainments helped define the relationships between Roman rulers and their subjects. . . . [Beacham] offers a wealth of primary sources and a good synthesis of up-to-date scholarship. . . . An excellent survey especially well suited to those without background in Roman history, and it is written in an engaging, accessible style. It makes a fine book for college courses seeking to address this aspect of social history, but historians and classicist should also find it profitable and enjoyable reading.??James Francis, Religious Studies Review
?[An] excellent account of the public spectacles at Rome during the late Republic and the reigns of the Julio-Claudian emperors. . . . The virtues of Beacham?s own entertaining performance include his careful scholarship and his clear and lively presentation. His book nicely complements other recent scholarship that reads spectacles and festivals as acts of communication. His interpretation should also influence discussions of the nature of Roman politics, since hosting entertainments and soaking up public applause seem to have been more important than election to office and holding magistracies.??Raymond Van Dam, The Historian
Selected as an Outstanding Academic Title for 2000 by Choice Magazine
A main selection of the History Book Club