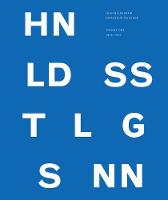 John Baldessari Catalogue Raisonné Volume One: 1956–1974 Patrick Pardo, Robert Dean
Format:

Hardback

Publication date:

12 Jun 2012

ISBN:

9780300174489

Imprint:

Dimensions:

472 pages: 292 x 251mm

Illustrations:

500 color illus.

Sales territories:

World
Categories:
The pioneering conceptual artist John Baldessari (b. 1931) began his career as a painter in the 1950s, but in the subsequent decades he expanded his practice in a new and groundbreaking direction by juxtaposing texts with found photography or appropriated images. These texts questioned the nature of art and the art-viewing experience, suggesting new meanings for the images they accompanied. This interaction of words and images remained a critical aspect of Baldessari's work, even as he branched into other media, such as site-specific installations, drawings, video, sculpture, prints, and multiples.
The first of a projected four-volume set, this lavishly illustrated book features about 500 works and chronicles an important shift in Baldessari's thinking during these formative years. Included are such landmark works as the Cremation Project (1970), where Baldessari incinerated the "body" of work he had made between the years 1953 and 1966. The ashes of the cremated works were then baked into cookies, and the rest sealed in a book-shaped urn, which he then presented along with a plaque announcing the "life" and "death" dates. The following year, Baldessari proposed his "I will not make any more boring art" project, which was realized by students at the Nova Scotia College of Art and Design. Baldessari's work and teaching have been greatly influential on a subsequent generation of artists.
The book features an essay by Yve-Alain Bois considering Baldessari's ethos as a generator of his artistic practice. Also included are an interview with Christopher Knight and a detailed chronology of the artist's life and work.
Robert Dean is editorial director and Patrick Pardo is research editor of the John Baldessari Catalogue Raisonné. Yve-Alain Bois is professor, School of Historical Studies, Institute for Advanced Study, Princeton, New Jersey.
"A fascinating artist"—Barry Schwabsky, Bookforum
Watch the related video


The epic life of a world-class artist, jammed into six minutes. Narrated by Tom Waits.
Commissioned by LACMA for their first annual "Art Film Gala" honoring John Baldessari and Clint Eastwood.