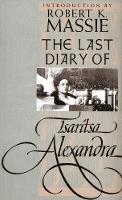 Series:

Format:

Paperback

Publication date:

01 Nov 1997

ISBN:

9780300172492

Imprint:

Dimensions:

298 pages: 235 x 140mm

Illustrations:

22 b-w illus.

Sales territories:

World excluding the Russian Federation
The last Tsaritsa of Russia, Alexandra Feodorovna, was murdered with her family on the night of 16-17 July 1918 by agents acting on behalf of the revolutionary Bolshevik government. The dramatic story of the demise of the Romanov dynasty has been recounted many times and has captivated the imagination of generations of readers throughout the world.
The recently declassified 1918 diary of Alexandra--published here for the first time in its entirety--provides something no other account could do: a glimpse of the Tsaritsa's thoughts and activities from 1 January 1918 until the night of her death. As the granddaughter of Queen Victoria, Alexandra wrote in English, though her native language was German and she became fluent in Russian after her marriage to Nicholas. The 1918 Diary takes us into her private world, revealing the care she lavished on her children during this period of revolutionary turmoil, how she felt toward her husband, Tsar Nicholas, and what she imagined about the profound struggle-between past and present, old and new worlds, the sacred and the profane-then occurring over the destiny of Russia. The diary reveals that even in her most intimate reflections, she remained the representative of a great system of belief that had prevailed for hundreds of years in Russia and that she and Nicholas hoped to perpetuate. We see in painful detail the tragic daily confrontation between this system of belief and the reality of the modern world that had, in every sense, broken free of her and Nicholas's control.
The Tsaritsa's diary is accompanied by an introduction by Robert Massie. A rich biographical portrait of Alexandra, the introduction places her in the historical context of the Revolution, her marriage to Nicholas, and the tragic events that encompassed her, her family, and her nation.

Annals of Communism series
First Serial, Yale University Press
"A devastating little diary. . . . The introduction . . . is a marvelous description of the monarchy's last hours."?Norman Stone, Sunday Times (London)
"A simple yet compelling record of daily events. . . . It has a resonant poignancy. . . . A milestone event."?Scotsman
"An extraordinary document, both mundane and moving, the Tsaritsa's 1918 diary is published in full for the first time with an excellent introduction."?Mail on Sunday
"This poignant book will ensure that they will not be forgotten."?Robert Service, The European
"The diary helps to give us a full picture of the doomed family's last days."?Contemporary Review
"[A] remarkable diary."?Birmingham Post
"The volume is most reasonably priced and its presentation more than meets the highest standards of scholarly editing."?Contemporary Review
"Moving...a distressing attempt by an orderly person to bring into line a life run amok...heroic."?Frances Welch, The Observer
"Despite its style and brevity, the diary is filled with poignancy and drama. Alexandra does not know what is going to happen; the modern reader does. Fleshed out by our knowledge from other sources, this diary gives a clear picture of these grim weeks and tells us much about the character of this much-criticized, reclusive, and melancholy woman." ?Robert K. Massie, from the introduction
"Alexandra?s diary offers an intimate portrait of one of the most controversial consorts in recent history and is an invaluable primary source for information about the private lives of Russia?s last royal family."?Lorraine Netrick Abraham, Journal of Women?s History