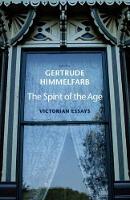 The Spirit of the Age Victorian Essays Gertrude Himmelfarb
Format:

Paperback

Publication date:

28 May 2009

ISBN:

9780300151381

Imprint:

Dimensions:

336 pages: 233 x 149mm

Sales territories:

World
Categories:
A wide-ranging collection of Victorian writings by John Stuart Mill, Charles Dickens, Oscar Wilde, and other leading lights of the era

None of the stereotypes of Victorian England—narrow-minded, inhibited, moralistic, complacent—prepares us for the vitality, variety, and above all extraordinary quality of intellectual life displayed in this volume of essays. Selected and annotated by Gertrude Himmelfarb, a distinguished historian of Victorian thought, the writings address a wide range of subjects—religion, politics, history, science, art, socialism, and feminism—by eminent figures of the era, including Carlyle, Mill, Macaulay, Dickens, Eliot, Thackeray, Newman, Arnold, and Wilde. The selections reflect what Himmelfarb terms "the spirit of the age"—contentious as well as earnest, given to high aspirations and convictions, and at the same time subject to deep anxieties and doubts.
The Victorians, undisputed masters of the long, serious essay, found the genre congenial to the expression of their most compelling and provocative views. This volume offers a representative sampling of essays from the early, middle, and late Victorian periods, each accompanied by an introductory note. Himmelfarb also introduces the volume with two enlightening essays, one on the evolving spirit of the age, and the other on the essay as a genre and on the important periodicals that attracted such a large and engaged audience.
Gertrude Himmelfarb is professor emeritus, Graduate School, City University of New York. She has written many books on Victorian England, including Roads to Modernity: The British, French, and American Enlightenments and The Moral Imagination: From Edmund Burke to Lionel Trilling. She lives in Washington, D.C.
?It is time for a broader audience to have a fresh encounter with the actual words of these eminent Victorians, and Professor Himmelfarb?s careful selection of writings adds up to a thoroughly stimulating, and profitable, reading experience.??Wilfred McClay, University of Tennessee at Chattanooga
"The historian Gertrude Himmelfarb has been writing important books on Victorian life and mores for over fifty years. . . . Her latest offering is an anthology of nonfictional readings from the period. . . . The collection illustrates Himmelfarb's view that the spirit of the Victorian age defined itself as much in its books and ideas as in political battles and societal strife."?Alexandra Mullen, New Criterion
"This volume presents an exemplary overview of Victorian moral concerns and self-awareness through the words of its preeminent intellectuals. . . . Highly recommended."?Choice
"Superb. . . . The pieces collected here are tightly argued, intellectually weighty and well worth seeking out."?James Ley, The Australian Literary Review