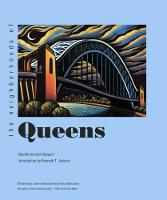 Series:

Format:

Paperback

Publication date:

30 Apr 2009

ISBN:

9780300151336

Imprint:

Dimensions:

300 pages: 233 x 208mm

Illustrations:

225 b-w illus. + 56 maps

Sales territories:

World
Categories:
A grand tour of the neighborhoods of Queens in all their richness and diversity

This up-to-date, intimate portrait of the 99 neighborhoods of Queens is a wonderful tribute to the borough's past history and present diversity. Detailing the history, people, and cultural activities of each neighborhood, the book is generously illustrated with more than 200 photographs, both contemporary and historical, and over 50 new maps that chart the precise neighborhood boundaries.
With two airports (La Guardia and JFK), Shea Stadium, and Aqueduct Racetrack, Queens is a destination for millions of travelers and visitors each year. But those who live in the borough's neighborhoods know that it offers much more: parks, bridges, colleges and universities, museums, shops, restaurants, and other institutions and sites that testify to its more than 350-year history. From Astoria to Woodside, with points in between, Queens, the most diverse county in the country, offers a cornucopia of cultures, sights, tastes, and sounds.
With input from residents, historians, demographers, politicians, borough officials, shopkeepers, and many others, The Neighborhoods of Queens captures the unique character of each neighborhood. The book features practical tips (subway and bus routes, libraries, fire departments, hospitals), quirky and unusual neighborhood facts, and information on famous residents. For anyone who lives in Queens, visits its neighborhoods, or remembers it from earlier times, this book is an unsurpassed treasure.
Claudia Gryvatz Copquin is an award-winning freelance journalist who immigrated to Queens from South America with her family in the late 1960s. She now resides on Long Island.
"Look out, Queens, because your bible is coming. A 265-page book with intricate maps, historic photos and fascinating tidbits about the nation's most diverse county. . . . The Neighborhoods of Queens includes detailed community profiles that detail everything from boundaries and bus routes to ethnic makeup and landmarks. . . . The book is also notable for its wealth of eye-catching photos."?Nicholas Hirshon, New York Daily News
"Copquin sought input from residents, historians, demographers, politicians, borough officials, shopkeepers. and many others, and the result is that The Neighborhoods of Queens captures the unique character of each neighborhood. . . . For anyone who lives in Queens, visits its neighborhoods or remembers it from earlier times, this book is an unsurpassed treasure."?Linda J. Wilson, The Queens Gazette
"As an encyclopedia and an overview of New York City's largest borough, The Neighborhoods of Queens has tremendous research and reference value. It includes a detailed demographic breakdown of each neighborhood, with information from the 2000 U.S. Census. It appears that the Citizens Committee for New York City, which joined with Yale University Press and Kenneth Jackson to create the Neighborhoods of New York City series, had done the public a real service. . . . Having all of this information compiled in one book is a helpful tool for anyone interested in the dynamism of New York City."?Judith Sloan, City Limits Weekly
"A practical, easy-to-use guide to every one of the 99 neighborhoods and smaller yet distinct sub-neighborhoods of this fascinating, multi-cultural borough. Each chapter offers a brief narrative overview of the area it covers and is generously illustrated with photographs and a detailed map. "?Mimi Schwartz, Wilson Quarterly
"This book is a truly interesting slice of Americana and a great gift for anyone with a connection to Queens."?John Linsenmeyer, Greenwich Time
"[A] handsome book. . . . Maps and photographs, historical and contemporary, illustrate a lively introduction to the people and cultures of Queens's 99 neighborhoods."?New York Times Book Review (paperback row)