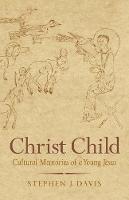 Christ Child Cultural Memories of a Young Jesus Stephen J. Davis
Series:

Format:

Hardback

Publication date:

13 May 2014

ISBN:

9780300149456

Imprint:

Dimensions:

432 pages: 235 x 156 x 29mm

Illustrations:

3 b-w illus.

Sales territories:

World
Categories:
Little is known about the early childhood of Jesus Christ. But in the decades after his death, stories began circulating about his origins. One collection of such tales was the so-called Infancy Gospel of Thomas, known in antiquity as the Paidika or "Childhood Deeds" of Jesus. In it, Jesus not only performs miracles while at play (such as turning clay birds into live sparrows) but also gets enmeshed in a series of interpersonal conflicts and curses to death children and teachers who rub him the wrong way. How would early readers have made sense of this young Jesus?

In this highly innovative book, Stephen Davis draws on current theories about how human communities construe the past to answer this question. He explores how ancient readers would have used texts, images, places, and other key reference points from their own social world to understand the Christ child's curious actions. He then shows how the figure of a young Jesus was later picked up and exploited in the context of medieval Jewish-Christian and Christian-Muslim encounters. Challenging many scholarly assumptions, Davis adds a crucial dimension to the story of how Christian history was created.
Stephen J. Davis is professor of religious studies, executive director of the Yale Monastic Archaeology Project, and master of Pierson College at Yale University.

'There is no reason to believe that the Padikia was anything more than a flight of fancy (and quite a sinister one to boot). But purely as a cultural artefact it warrants close inspection. Davis performs this task with considerable skill. . .'—Jonathan Wright, Catholic Herald.

'This study will be classified within the field of reception history, and yet it reinvents what this field can mean. It is a brilliant and erudite work that will become a benchmark for academic enquiry into how a 'text' was received and went on being shaped through cultures and times.'—Joan E. Taylor, Theology.

'Davis offers insightful reflections on how the Padika reveals Jesus' divinity… an accessible yet unsuperficial treatment of the reception and inter-faith development of these traditions. This work is both innovative and instructive.'—Kimberly Fowler, Journal of the Study of the New Testament.
"Stephen Davis's outstanding study of the so-called Infancy Gospel of Thomas provides a model for how early Christian "apocrypha" should be understood.  A major advance in the literary and cultural history of ancient Christianity."—David Brakke, The Ohio State University
"Stephen Davis's Christ Child is as theoretically important as it is fascinating. Davis takes the reader on an engaging journey through the Infancy Gospel of Thomas and its surprisingly rich afterlives in Christianity, Judaism, and Islam. In the process, Davis challenges us to grapple with broader theoretical questions about transmission, textuality, and memory. Not only does Christ Child demonstrate the importance of attention to apocryphal texts, but it offers a model for bringing interdisciplinary insights from Memory Studies into research on religion and literature more broadly."—Annette Yoshiko Reed, University of Pennsylvania  
"The most thoughtful and erudite study to date of the so-called Infancy Gospel of Thomas, this book demonstrates the relevance of the Paidika to the ongoing efforts to understand both the life and "afterlife" of early Christian traditions. Davis surrounds his main source with copious amounts of scholarship, insightful readings of primary texts, and illustrative examples of material artifacts."—Chris Frilingos, Michigan State University