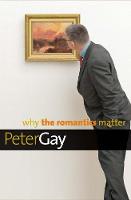 Why the Romantics Matter Peter Gay
Series:

Format:

Hardback

Publication date:

13 Jan 2015

ISBN:

9780300144291

Imprint:

Dimensions:

176 pages: 197 x 133 x 17mm

Sales territories:

World
Categories:
A renowned scholar's reflections on the romantic period, its disparate participants, and our unacknowledged debt to them

With his usual wit and élan, esteemed historian Peter Gay enters the contentious, long-standing debates over the romantic period. Here, in this concise and inviting volume, he reformulates the definition of romanticism and provides a fresh account of the immense achievements of romantic writers and artists in all media.
 
Gay's scope is wide, his insights sharp. He takes on the recurring questions about how to interpret romantic figures and their works. Who qualifies to be a romantic? What ties together romantic figures who practice in different countries, employ different media, even live in different centuries? How is modernism indebted to romanticism, if at all?
 
Guiding readers through the history of the romantic movement across Britain, France, Germany, and Switzerland, Gay argues that the best way to conceptualize romanticism is to accept its complicated nature and acknowledge that there is no "single basket" to contain it. Gay conceives of romantics in "families," whose individual members share fundamental values but retain unique qualities. He concludes by demonstrating that romanticism extends well into the twentieth century, where its deep and lasting impact may be measured in the work of writers such as T. S. Eliot and Virginia Woolf.
Peter Gay is Sterling Professor of History Emeritus, Yale University, and former director of the New York Public Library Center for Scholars and Writers. He is the author of dozens of books and has won numerous awards for his scholarship, including the National Book Award and a Gold Medal from the American Academy of Arts and Letters. He lives in New York City.
"With his usual deft, even chatty style, Peter Gay leads us through the paradoxes of the major European Romantics and documents their impact on Modernism. There is no page in his book that is not thoughtful and witty."—Geoffrey Hartman, author of The Eighth Day: Poems Old and New
"In this instructive and insightful book, a capstone to a career that has now spanned more than six decades, Peter Gay muses with characteristic brilliance and learning about the deep connections between Romanticism and Modernism, and how they have shaped the way the modern age thinks and feels."—David A. Bell, Princeton University
"With Peter Gay's characteristic elegance and erudition, Why the Romantics Matter celebrates the power of Romanticism from the late eighteenth century to the early twentieth—a movement whose energies are inseparable from the self-image of men and women today."—David Bromwich, Yale University
'Until now the Romantic period was almost the only one about which prolific cultural historian Gay (now in his 90's) had not written. Part of the Yale Why X Matters series, his erudite and idiosyncratic narrative argues the importance of Beethoven, Wilde and Kadinsky (his favoured exemplars, among many) to the developing story of art.'—Peter Swaab, the Sunday Telegraph.

"Highly readable."—Robert Fulford, National Post
Winner of the 2015 Jean-Pierre Barricelli Prize given by the International Conference on Romanticism.