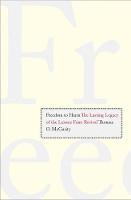 Freedom to Harm The Lasting Legacy of the Laissez Faire Revival Thomas O. McGarity
Format:

Hardback

Publication date:

19 Mar 2013

ISBN:

9780300141245

Imprint:

Dimensions:

408 pages: 235 x 156 x 27mm

Sales territories:

World
How much economic freedom is a good thing?
 
This book tells the story of how the business community, and the trade associations and think tanks that it created, launched three powerful assaults during the last quarter of the twentieth century on the federal regulatory system and the state civil justice system to accomplish a revival of the laissez faire political economy that dominated Gilded Age America.  Although the consequences of these assaults became painfully apparent in a confluence of crises during the early twenty-first century, the patch-and-repair fixes that Congress and the Obama administration put into place did little to change the underlying laissez faire ideology and practice that continues to dominate the American political economy.  In anticipation of the next confluence of crises, Thomas McGarity offers suggestions for more comprehensive governmental protections for consumers, workers, and the environment.
Thomas O. McGarity holds the Joe R. and Teresa Lozano Long Endowed Chair in Administrative Law at the University of Texas at Austin School of Law. He is the author of The Preemption War: When Federal Bureaucracies Trump Local Juries and Reinventing Rationality: The Role of Regulatory Analysis in the Federal Bureaucracy. He lives in Austin, TX.
Selected as a Choice Outstanding Academic Title for 2013 in the U.S. Politics Category.
"A well-written, well-reasoned book that should be read by every consumer rights lawyer, as well as people involved in consumer advocacy and public-interest organizations."—Trial