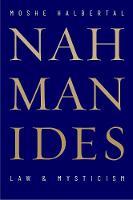 Format:

Hardback

Publication date:

27 Oct 2020

ISBN:

9780300140910

Imprint:

Dimensions:

464 pages: 235 x 156mm

Sales territories:

World
Categories:
A finalist for the 2020 National Jewish Book Award for scholarship--a broad, systematic account of one of the most original and creative kabbalists, biblical interpreters, and Talmudic scholars the Jewish tradition has ever produced

"Beautifully written, Moshe Halbertal's groundbreaking book is exceptional in its capability to penetrate to the heart of Nahmanides's thinking and worldview. An admirable achievement."—Adam Afterman, Tel Aviv University

"Magisterial. . . . Halbertal displays here his well-established talent for making abstruse ideas accessible to a non-specialist readership."—Los Angeles Review of Books' Marginalia
 
Rabbi Moses b. Nahman (1194–1270), known in English as Nahmanides, was the greatest Talmudic scholar of the thirteenth century and one of the deepest and most original biblical interpreters. Beyond his monumental scholastic achievements, Nahmanides was a distinguished kabbalist and mystic, and in his commentary on the Torah he dispensed esoteric kabbalistic teachings that he termed "By Way of Truth."
 
This broad, systematic account of Nahmanides's thought explores his conception of halakhah and his approach to the central concerns of medieval Jewish thought, including notions of God, history, revelation, and the reasons for the commandments. The relationship between Nahmanides's kabbalah and mysticism and the existential religious drive that nourishes them, as well as the legal and exoteric aspects of his thinking, are at the center of Moshe Halbertal's portrayal of Nahmanides as a complex and transformative thinker.
Moshe Halbertal is John and Golda Cohen Professor of Jewish Thought and Philosophy at Hebrew University and Gruss Professor of Law at NYU Law School. His books include Maimonides: Life and Thought. Daniel Tabak is a Hebrew–English translator living in Israel.
Finalist for the National Jewish Book Award, Scholarship category, sponsored by The Jewish Book Council 

"Beautifully written, Moshe Halbertal's groundbreaking book is exceptional in its capability to penetrate to the heart of Nahmanides's thinking and worldview. An admirable achievement."—Adam Afterman, Tel Aviv University

"Moshe Halbertal masterfully analyzes and synthesizes the thought of a major Jewish intellectual icon. This book is without peer."—Jonathan Dauber, Yeshiva University

"Moshe Halbertal is the lucid expositor of complex ideas par excellence. In this magisterial volume he meets his ideal subject, positioning Nahmanides at the apex of a creative revolution in Jewish thought."—Elisheva Carlebach, Columbia University
 

"Moshe Halbertal's splendid book deeply engages Nahmanides's oeuvre. Its comprehensive analysis explores the variegated intellectual activity of one of the pillars of the Jewish Middle Ages, profoundly illuminating Nahmanides's worldview."—Moshe Idel, author of Kabbalah: New Perspectives