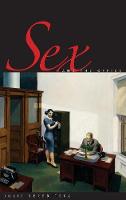 Sex and the Office A History of Gender, Power, and Desire Julie Berebitsky
Series:

Format:

Hardback

Publication date:

17 Apr 2012

ISBN:

9780300118995

Imprint:

Dimensions:

376 pages: 235 x 156 x 30mm

Illustrations:

20 b-w illus.

Sales territories:

World
Categories:
In this engaging book - the first to historicize our understanding of sexual harassment in the workplace - Julie Berebitsky explores how Americans' attitudes towards sexuality and gender in the office have changed from the 1860s, when women first took jobs as clerks in the U.S. Treasury office, to the present.
Berebitsky recounts the actual experiences of female and male office workers; draws on archival sources ranging from the records of investigators looking for waste in government offices during World War II to the personal papers of Cosmopolitan editor Helen Gurley Brown and Ms. magazine founder Gloria Steinem; and explores how popular sources - including cartoons, advertisements, advice guides and a wide array of fictional accounts - have represented wanted and unwelcome romantic and sexual advances. By giving sex in the office a history, she provides valuable insights into the nature and meaning of sexual harassment today.
Julie Berebitsky is professor of history and director of the Women's Studies Program at Sewanee: The University of the South. The author of Like Our Very Own: Adoption and the Changing Culture of Motherhood, she lives in Sewanee, TN.
"Sex and the Office brings critical new historical insight to the sexual culture of the white-collar office. Culling an impressive array of sources, Berebitsky explores gendered office practices, including men asking employment agencies for 'pretty blondes', women using sex with 'superiors' to supplement their wages, alienation-of-affection lawsuits waged by wives of adulterous bosses, and feminist attempts to name and address sexual harassment. A rich, important read."--Jennifer Scanlon, author of Bad Girls Go Everywhere: The Life of Helen Gurley Brown

"A very original book... One of the most interesting history books I have read for a while and especially striking in its lack of opinion."–Heather McGregor, Management Today

Susan Pedersen

£35.00

Kathleen M. Brown

£30.00

Erica Armstrong Dunbar

£15.00