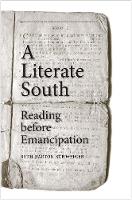 A Literate South Reading before Emancipation Beth Barton Schweiger
Format:

Hardback

Publication date:

13 Aug 2019

ISBN:

9780300112535

Imprint:

Dimensions:

288 pages: 235 x 156 x 25mm

Illustrations:

30 b-w illus.

Sales territories:

World
Categories:
A provocative examination of literacy in the American South before emancipation, countering the long-standing stereotype of the South's oral tradition

Schweiger complicates our understanding of literacy in the American South in the decades just prior to the Civil War by showing that rural people had access to a remarkable variety of things to read. Drawing on the writings of four young women who lived in the Blue Ridge Mountains, Schweiger shows how free and enslaved people learned to read, and that they wrote and spoke poems, songs, stories, and religious doctrines that were circulated by speech and in print. The assumption that slavery and reading are incompatible—which has its origins in the eighteenth century—has obscured the rich literate tradition at the heart of Southern and American culture.
 
Beth Barton Schweiger taught for fifteen years at the University of Arkansas. She is the author of The Gospel Working Up and editor of Religion in the American South.
"A striking new interpretation of the antebellum American South. This book is a major contribution to the literary and cultural history of the American South, the history of the book and print culture, women's history, nineteenth-century American history, and African American history."—Lloyd Pratt, University of Oxford

"Beth Barton Schweiger's highly imaginative survey of antebellum print culture in the Virginia and North Carolina backcountry uncovers a rich world of avid readers who helped define themselves and their own version of modernity at a time when literacy served as a potent weapon in the slavery/antislavery debate."—Susan V. Donaldson, College of William and Mary

"Schweiger makes a persuasive case for the circulation and consumption of print in the rural antebellum South. In doing so, she offers an innovative take on what people do with print."—Sarah Gardner, Mercer University