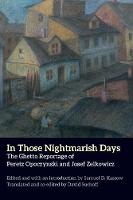 Series:

Format:

Paperback

Publication date:

14 Jan 2016

ISBN:

9780300112313

Imprint:

Dimensions:

368 pages: 210 x 140 x 21mm

Sales territories:

World
Categories:
This volume sheds light on two brilliant but lesser known ghetto journalists: Josef Zelkowicz and Peretz Opoczynski. An ordained rabbi, Zelkowicz became a key member of the archive in the Lodz ghetto. Opoczynski was a journalist and mailman who contributed to the Warsaw ghetto's secret Oyneg Shabes archive. While other ghetto writers sought to create an objective record of their circumstances, Zelkowicz and Opoczynski chronicled daily life and Jewish responses to ghettoization by the Nazis with powerful immediacy. Expertly translated by David Suchoff, with an elegant introduction by Samuel Kassow, these profound writings are at last accessible to contemporary readers.
Peretz Opoczynski (1892–1943), a journalist by profession, found work as a mailman in the Warsaw ghetto after the war started, and wrote many pieces for the secret archive until he was most likely rounded up in January 1943. Josef Zelkowicz (1897–1944), an ethnographer and professional journalist writing in Yiddish before the war, was deported in 1944 to Auschwitz, where he perished. Samuel D. Kassow is Charles H. Northam Professor of History at Trinity College. David Suchoff is professor of English at Colby College.
"In Those Nightmarish Days is a masterpiece of Holocaust literature. The writings of Opoczynski and Zelkowicz prove that, even in the face of extermination, great literature can provide a trustworthy historical record, an imaginative counterforce, and a lasting witness."— Eric Sundquist, Johns Hopkins University
"The vivid writing and able translations of the wartime essays make this book a powerful read. Kassow's introduction, deeply informed by scholarship, is eloquent and provides the contexts that bring the essays to life."—Sara R.Horowitz, York University