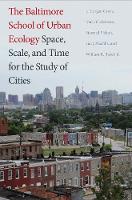 Format:

Hardback

Publication date:

14 Jan 2016

ISBN:

9780300101133

Imprint:

Dimensions:

248 pages: 235 x 156 x 24mm

Illustrations:

10 color + 48 b-w illus.

Sales territories:

World
Categories:
A leading-edge guide to thinking about and planning for twenty-first-century cities in all their social, political, and ecological complexity

The first "urban century" in history has arrived: a majority of the world's population now resides in cities and their surrounding suburbs. Urban expansion marches on, and the planning and design of future cities requires attention to such diverse issues as human migration, public health, economic restructuring, water supply, climate and sea-level change, and much more.
 
This important book draws on two decades of pioneering social and ecological studies in Baltimore to propose a new way to think about cities and their social, political, and ecological complexity that will apply in many different parts of the world. Readers will gain fresh perspectives on how to study, build, and manage cities in innovative and sustainable ways.
J. Morgan Grove is research social scientist at the Baltimore Field Station, USDA Forest Service. Mary L. Cadenasso is professor of ecology, University of California, Davis. Steward T. A. Pickett is distinguished senior scientist, Cary Institute of Ecosystem Studies. Gary E. Machlis is professor of environmental sustainability, Clemson University. William R. Burch, Jr., is professor emeritus of natural resource management, Yale University School of Forestry and Environmental Studies.
"This is a book about Baltimore's past, present, and future, but its resonance reverberates to all the far-flung places we all call home." —From the Foreword by Laura A. Ogden, Dartmouth College
"This book stands out from others on urban ecology by its strong emphasis on a central concept and detailed descriptions of and reflections on method. It will be extremely useful in advancing urban ecology as an interdisciplinary pursuit."—Joan Iverson Nassauer, University of Michigan
"The authors have written a major work on urban ecology that reflects years of interdisciplinary collaboration."—Frederick Steiner, Dean, University of Pennsylvania School of Design
"All urbanists—whether practitioners, theorists, or scientists—will find this volume a must read. Using the concept of patch dynamics, Grove and co-authors bring a fresh, interdisciplinary perspective to an urgent issue: how can we better link urban science with urban decision-making to create and manage cities that are more sustainable?"—Karen C. Seto, Yale University
"Hybrid vigor rules these pages. The Baltimore Sociology-Ecology Team eloquently elucidates a city's overlapping, connected, dynamic patch patterns, both to understand and shape urban mosaics. Indeed this book uncovers foundations for a promising future."—Richard T. T. Forman, author of Urban Ecology: Science of Cities
"This lucidly written book convincingly demonstrates the strength of long-term and multidisciplinary study on urban ecosystems. The innovative Baltimore School is introduced as an integrated approach to understanding the complexities urban social-ecological systems."—Jari Niemelä, Editor-in-Chief of Urban Ecology—patterns, processes, and applications