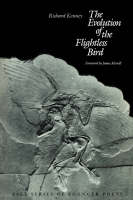 The Evolution of the Flightless Bird Richard Kenney
Series:

Format:

Paperback

Publication date:

10 Sep 1984

ISBN:

9780300031522

Imprint:

Dimensions:

Sales territories:

World
Categories:
Richard Kenney's The Evolution of the Flightless Bird, the winning volume in the 1983 Yale Series of Younger Poets competition, was selected from among 650 entries in this annual competition.
All of one species whose origin is the sonnet, Kenney's poems ring many changes through that form, reflecting, as they do, a personal evolution in the poet's life. "The Hours of the Day"—the first of four chapters—is a long meditative sequence set in Vermont; here the square-shaped poems become the crown glass windowpanes of the farmhouse itself. "First Poems" follows next, a group of eight lyrics, ending with the poem that titles the book. "Heroes," a narrative quartet, with two poems from history and two from life, concerns itself with the shaping of all tales, from source to first telling. Finally, "Notes from Greece" chronicles certain thoughts and adventures there, notably a visit to the Byzantine monastic communities that ring the peninsula of Mt. Athos.
Born in Glens Falls, New York, in 1948, Richard Kenney received his B.A. from Dartmouth College in 1970. His poems have appeared in numerous magazines, including The New Yorker, The Atlantic Monthly, Hudson Review, American Scholar, Poetry, The Yale Review, Carolina Quarterly, and New England Review.
"Kenney's poetry is dazzling and utterly distinctive, wedding imagery and intellectual ambition, energy and formal proficiency, in exhilirating fashion. I can't think of a new poet who deserves more attention."?Michael McFee, Spectator
"Kenney is ambitious and challenging, definitely a poet to watch."?Publishers Weekly
"Kenney is an atypical contemporary poet, interested in the past, in the story and its emotional or psychological behavior. He's witty, ironic and referential. . . . Recommended."?Library Journal
"Pleasing and unusual."?David St. John, Washington Post Book World
"From the start of this masterful book [Kenney] shows himself an accomplished artist capable of sustaining interest at length over what may first seem difficult terrain. In subtle and ever skillful lines, he traces natural, social, and personal histories?from the Paleolithic period to his own adventures on the Hellespont. . . . A brilliant debut?elegantly introduced by James Merrell."?Booklist
"It is important to have available again techniques recently out of favor, and to find them used here in a style uncompromising and triumphant. Such poetry is not afraid of having intellect, or requiring it."?William Cogan, New York Times Book Review
"It is a book to be read and re-read?not because it offers treacle for life's daily pains, but because it pinpoints the mind as the place where most of our significant living occurs."?Vincent Kopp, Spectator
"Kenney reveals a mastery of style and language in his unorthodox sonnets and his innovative use of meter and rhyme devices rejected by most contemporary poets."?The Bloomsbury Review
"A fine and serious book by a poet who is full of such passionate knowledge of science and hsitory that their modes of constructing the world become part of what his poems see, know and feel. . . . Kenney's great promise rests not merely upon his intellect, his knowledge, and his engagement with the stuff of language as with the stuff of nature?although these in themselves are rare?but, finally, with the way in which his work, as in the title poem, can be sufficiently parabolic about itself as poetry to be able to be truly about the world."?John Hollander, The Yale Review
"This volume makes an impressive . . . start on a poetic career."?James Finn Cotter, The Hudson Review
"Possibly the strongest book to arrive from [the series] in over a decade. . . . A work of daunting intelligence and formal finesse."?David Lehman, Newsday
"Whether a natural or a disciplined gift, [Kenny] has a young poet's best headstart: he pays close attention and seeks correspondences between what he sees and what he knows. He is a ruminator. The persoanlity he projects seems solitary, even aloof, on a line with Thoreau. But he is also a learned poet, so that his point of reference can shift from snowflake to neuron withouth a blink?except perhaps the reader's. . . . This is an outstanding first book of poems."?J.D. McClatchy, Poetry