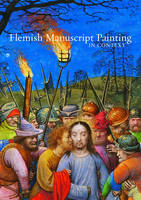 Format:

Hardback

Publication date:

05 Apr 2007

ISBN:

9780892368525

Imprint:

Dimensions:

160 pages: 278 x 197 x 15mm

Illustrations:

83 b&w and 67 colour illustrations
Categories:
A companion to the prize-winning exhibition catalogue "Illuminating the Renaissance: The Triumph of Flemish Manuscript Painting in Europe", edited by Thomas Kren and Scot McKendrick (2003), this volume contains thirteen selected papers presented at the two conferences held in conjunction with the exhibition. The first was organized by the Getty Museum, and the second was held at the Courtauld Institute of Art, under the sponsorship of the Courtauld and the Royal Academy of Arts. Added here is an essay by Margaret Scott on the role of dress in the Burgundian court. Chapters include Lorne Campbell's research into Rogier van der Weyden's work as an illuminator, Nancy Turner's investigation of materials and methods of painting in Flemish manuscripts, and trenchant commentary by Jonathan Alexander and James Marrow on the state of current research on Flemish illumination. Although topics are wide ranging, one recurring theme is the structure of collaboration in manuscript production. Essays uncover an important new patron of manuscript illumination and address the role of illuminated manuscripts at the Burgundian court along with the contributions of individual illuminators. A series of biographies of Burgundian scribes is also included.
Elizabeth Morrison is associate curator of manuscripts, and Thomas Kren is curator of manuscripts, both at the Getty Museum.