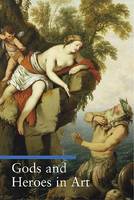 Format:

Paperback / softback

Publication date:

31 Mar 2006

ISBN:

9780892367023

Imprint:

Dimensions:

384 pages: 198 x 150 x 25mm

Illustrations:

400 colour illustrations, bibliography, indexes
Categories:
As archetypes of human virtue and vice, the gods and heroes of Ancient Greece and Rome have figured prominently in Western culture. In art, they have been portrayed time and time again, especially during the Renaissance, Baroque and Neoclassical periods. This volume aims to help museum patrons and art lovers recognize the legendary characters of classical antiquity in art. The characters are each described in entries summarizing their distinctive stories, their special attributes, and the ways in which artists have depicted them. Each entry is illustrated with reproductions of works of art in which the god or hero is pictured, giving readers a chance to examine images of the character and come to understand the work of art better. The guide first surveys the pantheon of the Greco-Roman world, then focuses on characters from the Trojan War and the Odyssey. The next sections describe kings, philosophers, warriors and other historical figures. The work concludes with indexes, including a list of iconographic symbols associated with the subjects, and a bibliography of essential resources.
Lucia Impelluso is an architect and the author of Themes, Meanings, Symbols on Portraiture.