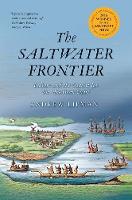 The Saltwater Frontier Indians and the Contest for the American Coast Andrew Lipman
Format:

Paperback

Publication date:

04 Apr 2017

ISBN:

9780300227024

Imprint:

Dimensions:

360 pages: 235 x 156mm

Illustrations:

20 b-w illus.

Sales territories:

World
Categories:
A fascinating new perspective on Native seafaring and colonial violence in the seventeenth-century American Northeast

"Gripping. . . . Lipman innovatively uses the sea to unite the histories of New York, New England and the region's native peoples by following the sailing ships and canoes along Long Island Sound up to Nantucket."—Kathleen DuVal, The Wall Street Journal

Andrew Lipman's eye-opening first book is the previously untold story of how the ocean became a "frontier" between colonists and Indians. When the English and Dutch empires both tried to claim the same patch of coast between the Hudson River and Cape Cod, the sea itself became the arena of contact and conflict. During the violent European invasions, the region's Algonquian-speaking Natives were navigators, boatbuilders, fishermen, pirates, and merchants who became active players in the emergence of the Atlantic World. Drawing from a wide range of English, Dutch, and archeological sources, Lipman uncovers a new geography of Native America that incorporates seawater as well as soil. Looking past Europeans' arbitrary land boundaries, he reveals unseen links between local episodes and global events on distant shores.
 
Lipman's book "successfully redirects the way we look at a familiar history" (Neal Salisbury, Smith College). Extensively researched and elegantly written, this latest addition to Yale's seventeenth-century American history list brings the early years of New England and New York vividly to life.
Andrew Lipman is assistant professor of history at Barnard College, Columbia University. He lives in New York City.
"Gripping . . . Lipman innovatively uses the sea to unite the histories of New York, New England and the region's native peoples by following the sailing ships and canoes along Long Island Sound up to Nantucket."—Kathleen DuVal, The Wall Street Journal

"Written in lucid and graceful prose . . . Lipman's impressive work is crucial reading."—Publishers Weekly, starred review

Winner of the 2016 Bancroft Prize in American History

Won honorable mention for the 2016 PROSE Awards in the U.S. History category

Selected as a 2016 New England Society Book Awards Finalists in the Nonfiction: History & Biography category

"With The Saltwater Frontier, Andrew Lipman emerges as one of the greatest prose stylists among early American historians. Even more significantly, Lipman's water-centric approach to Indian-European interactions upends much that we thought we knew. This book is simply superb."—Erik R. Seeman, author of Death in the New World: Cross-Cultural Encounters, 1492-1800

"Most histories claim to be new; Andrew Lipman's The Saltwater Frontier actually is. He tells how, facing invasion from the sea, Indian peoples responded by turning to the sea."—Richard White, author of The Middle Ground

"This cutting-edge study will draw much needed attention to the waters of seventeenth-century Long Island Sound as a zone of Indian-colonial contact and imperial rivalry. Lipman approaches his topic with uncommon intelligence, creativity, and literary grace."— David J. Silverman, George Washington University

"A vitally important book for its maritime and regional foci, for its array of stunning insights on the events discussed, and for its engaging writing style."—Neal Salisbury, Smith College