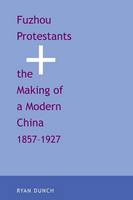 Fuzhou Protestants and the Making of a Modern China, 1857-1927 Ryan Dunch
Series:

Format:

Paperback

Publication date:

05 Aug 2014

ISBN:

9780300212136

Imprint:

Dimensions:

320 pages: 235 x 156mm

Illustrations:

38 b-w illus. + 2 maps
Categories:
In this groundbreaking examination of Chinese Protestants and their place in the history of modern China, Ryan Dunch focuses on the Fuzhou area of southeast China from the mid-nineteenth century until 1927, when a national revolutionary government was established. Though accounting for only a small proportion of the population, Protestants occupied a central place in Fuzhou's political, intellectual, and social life, Dunch contends. He shows how Chinese Protestants, with a distinctive vision for constituting China as a modern nation-state, contributed to the dissolution of the imperial regime, enjoyed unprecedented popularity following the 1911 revolution, and then saw their dreams for social and political change dashed.

Dunch draws on previously untapped Chinese-language sources and on mission archives and publications to understand how Chinese Protestants saw themselves and to situate them within local Chinese society. He explores how the missionary presence diffused not only religion but also notions of nationalism and identity and models of political ritual. The book concludes with a discussion of the discrediting of Protestant nationalism and the frustration of Protestant hopes for China's swift conversion to Christianity.

Ryan Dunch is assistant professor in the Department of History and Classics at the University of Alberta.

With exceptional clarity Dunch revises our picture of the importance of Chinese Protestant Christianity in the rapidly changing political and intellectual world of the early twentieth century."—Paul A. Cohen, author of History in Three Keys and China and Christianity May edit