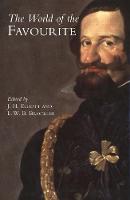 Format:

Paperback

Publication date:

01 Aug 1998

ISBN:

9780300197914

Imprint:

Dimensions:

336 pages: 235 x 156mm

Illustrations:

75 b-w illus.
Categories:
Observers in England, Spain, France, and many other European states in the sixteenth and seventeenth centuries grew increasingly alarmed by the growing influence of favourites, or minister-favourites. These individuals appeared to be usurping powers and duties normally exercised by monarchs. In this pioneering book, a team of international scholars considers the emergence of favourites in Europe. The contributors examine the relation of the rise of the European favourite to various aspects of power politics and court culture. They also investigate how the careers of individual favourites cast light on broader historic and power issues.

Probing beyond the well-known life stories of such individual favourites and minister-favourites as the Duke of Buckingham, Cardinal Richelieu, and the Count-Duke of Olivares, the contributors inquire into the phenomenon of these powerful figures. Was their appearance on the European scene a matter of chance? How is it to be explained? How did favourites win, and retain, their hold on power? What was their relationship to their royal masters? How did they view themselves, and how did their contemporaries see them? And why did monarchs increasingly choose to rule without favourites as the seventeenth century drew to a close? This book provides many new insights into the intriguing role of the favourite in Early Modern Europe.


?The individual chapters of this book reflect back on one another, creating a cumulative impact and leaving no doubt that this exercise in comparative history has been worthwhile and thought provoking.??Michael B. Young, Historian