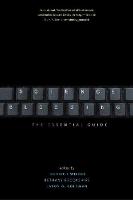 Format:

Paperback

Publication date:

03 May 2016

ISBN:

9780300197556

Imprint:

Dimensions:

288 pages: 210 x 140 x 19mm

Illustrations:

3 b-w illus.

Sales territories:

World
Categories:
Here is the essential how-to guide for communicating scientific research and discoveries online, ideal for journalists, researchers, and public information officers looking to reach a wide lay audience. Drawing on the cumulative experience of twenty-seven of the greatest minds in scientific communication, this invaluable handbook targets the specific questions and concerns of the scientific community, offering help in a wide range of digital areas, including blogging, creating podcasts, tweeting, and more. With step-by-step guidance and one-stop expertise, this is the book every scientist, science writer, and practitioner needs to approach the Wild West of the Web with knowledge and confidence.
Christie Wilcox blogs at Science Sushi, hosted by Discover. Bethany Brookshire writes Scicurious, hosted by Science News, and Eureka! Lab, hosted by Society for Science & the Public. Jason G. Goldman has written blogs for Scientific American, Conservation Magazine, Earth Touch News, io9, and more.
"[Science Blogging] offers practical advice on such matters as 'blogging about controversial topics' and 'persuading the unpersuadable.' For example: Always link to the relevant research, avoid 'muppet flailing' (excessive fervor, I gather) and 'don't let the trolls get you down.' Words not just to blog but to live by."—James Ryerson, New York Times Book Review

"This collection of essays and tips, wisdom and insight on science blogging should be considered a must-read. From its all-star editors to its remarkable contributors, Science Blogging: The Essential Guide offers a range of information suited to everyone from those curious about starting a blog to practitioners looking for ways to improve. The word 'essential' is often overused but in this case, it suits perfectly."—Deborah Blum, Director of Knight Science Journalism Program at MIT and author of the Poison Pen blog for the New York Times

"Want to learn how to launch a blog, nurture an audience, and—gasp—get paid for it? Read this book. Everyone, from neophyte to veteran, will learn from the Who's Who of science blogger contributors."—Ivan Oransky, cofounder of Retraction Watch

"Once upon a time, science blogging was imagined to be a distraction from the serious business of Real Journalism™. Now it is journalism, and much more besides. This new collection offers a well written, rigorous, and timely atlas to its diverse approaches and best practices. Aspiring and veteran bloggers alike, take note: good stuff here."—Thomas Levenson, MIT Graduate Program in Science Writing, and author of The Hunt for Vulcan

"Like the medium it covers, Science Blogging is by turns pragmatic, charming, wide ranging, and sharply argued. This is the guidebook science blogging deserves, and that every science blogger needs to read."—Thomas Hayden, coeditor of The Science Writers' Handbook: Everything You Need to Know to Pitch, Publish, and Prosper in the Digital Age