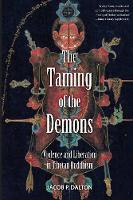 The Taming of the Demons Violence and Liberation in Tibetan Buddhism Jacob P. Dalton
Format:

Paperback

Publication date:

08 Jan 2013

ISBN:

9780300187960

Imprint:

Dimensions:

328 pages: 235 x 156mm

Illustrations:

6 b-w illus.

Sales territories:

World
Categories:
Taking two early Tibetan texts as his starting point, Jacob Dalton explores the ways in which violence has been integral to the development of Tibetan Buddhism. Paying particular attention to the so-called age of fragmentation, Tibet's dark age that spanned from 842 to 986 C.E., he draws on previously unstudied manuscripts discovered in the famous "library cave" near Dunhuang, on the old Silk Road. These demonstrate how this supposedly inactive period in Tibetan history was in fact crucial to the Tibetan assimilation of Buddhism, and particularly to the spread of the violent themes of tantric Buddhism, at both the local and popular levels.
From the late tenth century onward, this period and its mythic and ritual themes of violence, demon taming, and blood sacrifice came to play important symbolic roles in Tibetan history and politics. Despite its reputation as a tradition utterly opposed to violence, Tibetan Buddhism has long been haunted by violent rituals and imaginative associations. The resulting history challenges our own tendencies to romanticize or demonize the rich and ancient culture of Tibet.
More about this title
Shortlisted for the 2012 Academy of Religion Book Awards in the Historical Study of Religion category
Jacob P. Dalton is assistant professor of Tibetan Buddhist studies in the Department of East Asian Languages and Cultures and the Department of South and Southeast Asian Studies, University of California, Berkeley.
"Shining a light on esoteric texts from the seldom-studied 'dark' period of Tibetan Buddhism, this important book follows their ritual and rhetorical legacy into modern times, bringing us face to face with one of the greatest challenges to our interpretive abilities in all of Tibetan religious history. The incisive questions it raises, not only about the difference between symbols and the real, but also the very valence of violence in the religious - and ethical -- life of humankind, will be ours to ponder for a long time."--Janet Gyatso, Harvard University