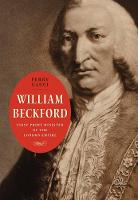 William Beckford First Prime Minister of the London Empire Perry Gauci
Series:

Format:

Hardback

Publication date:

21 May 2013

ISBN:

9780300166750

Imprint:

Dimensions:

304 pages: 235 x 156 x 27mm

Illustrations:

24 b-w illus.

Sales territories:

World
Categories:
This first-ever biography of William Beckford provides a unique look at eighteenth-century British history from the perspective of the colonies. Even in his own time, Beckford was seen as a metaphor for the dramatic changes occurring during this era. He was born in 1709 into a family of wealthy sugar planters living in Jamaica, when the colonies were still peripheral to Britain. By the time he died in 1770, the colonies loomed large and were considered the source of Britain's growing global power.
Beckford grew his fortune in Jamaica, but he spent most of his adult life in London, where he was elected Lord Mayor twice. He was one of the few politicians to have experienced imperial growing pains on both sides of the Atlantic, and his life offers a riveting look at how the expanding empire challenged existing political, social, and cultural norms.
Perry Gauci is a fellow and tutor in history at Lincoln College, University of Oxford. His most recent book is Regulating the British Economy, 1660–1850. He lives in Oxford.
 "The first complete study of the life of one of the most important transatlantic figures of the mid-eighteenth century . . . the book is illuminating in detail and rich in implications. It deserves a wide historical readership."—David Armitage, Harvard University
 "This study is entirely original. The author is a very fine scholar: intelligent, well-organized, and deeply learned with a greater knowledge of available sources than anyone else in the world. A fine work of scholarship."—Harry Dickinson, University of Edinburgh
 "In this important and much needed study, Perry Gauci places Beckford in a transatlantic context and tantalizingly suggests that Beckford's gamble in embracing the cause of John Wilkes was linked to the growing disaffection in America. Presenting the contradiction between Beckford the proponent of liberty and Beckford, master of the largest slave plantations in the British Empire, the book is further ammunition for those who argue that histories of freedom and slavery are intimately connected."—Andrew O'Shaughnessy, author of The Men Who Lost America: British Leadership, the American Revolution, and the Fate of the Empire
 "It is Perry Gauci's achievement to have brought Beckford to life in a work of high scholarship and to have unpacked his complexities. His book illumines not only a major political and plutocratic actor, but also the often racialized nature of liberty in the 18th-century world."—Linda Colley, Princeton University
 "Perry Gauci has written a multi-level biography of one of the most beguiling imperial architects of the eighteenth century and arguably the most frequently referenced yet least understood figure in British Caribbean history."—Simon Smith, University of Oxford
 "Gauci shows how William Beckford entered English politics with experience as a colonial Assemblyman and how his West India fortune sustained Beckford's place in English affairs. Gauci's wide-ranging curiosity will enable readers on both sides of the Atlantic to reevaluate the phenomenon of Alderman Beckford."—James Robertson, University of the West Indies
'Perry Gauci offers the first full-bodied account of Beckford, using his biography to tell two intertwined stories about the impact of empire.'
—David Hancock, Times Literary Supplement