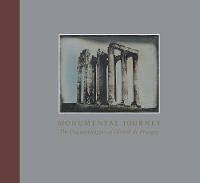 Format:

Hardback

Publication date:

10 Jan 2019

ISBN:

9781588396631

Imprint:

Dimensions:

304 pages: 241 x 267mm

Illustrations:

200 color illus.
Categories:
In 1842, the pioneering French photographer Joseph-Philibert Girault de Prangey (1804–1892) set out eastward across the Mediterranean, custom-built camera in hand, to explore ancient lands that were largely unknown to the Western world. This book is the first to fully explore the hundreds of daguerreotypes that resulted from his three-year journey, many of which were made using innovative techniques that fascinate photographers to this day. The images, some of which are the first known photographic documentation of these locations, offer rare, tangible evidence of historic sites, many of which have since been destroyed, in places such as Greece, Italy, Egypt, Turkey, Syria, and Jerusalem. They are remarkable in themselves and unparalleled as fascinating portraits of a world gone by.
 
Copiously illustrated and featuring a geographic glossary of the sites and images, Monumental Journey sheds new light on the arc of Girault's career, the vibrant orientalist milieu of 19th-century France that shaped his work, and his inventive contributions to the nascent field of photography. It introduces modern audiences to a brilliant yet enigmatic talent, as well as the stunning images, many published here for the time, that make a major contribution to the histories of both photography and architecture.
 
Stephen C. Pinson is curator in the Department of Photographs at The Metropolitan Museum of Art.